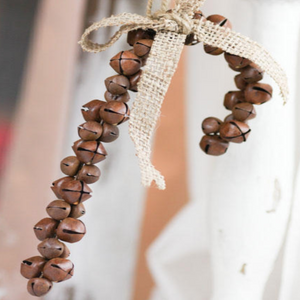 Rustic Jingle Bell Candy Cane
This Rusty Jingle Bell Candy Cane Ornament's sweet, old-fashioned essence is guaranteed to immediately fill you with Yuletide spirit.
This rustic candy cane will add country glamor to any Christmas tree! Because of its staff-like shape, it can easily hang itself from its curved end, without the use of its string. Simply let it adorn a doorknob. Lay it flat or lean in all sorts of different decorative combinations! Attach it to wreaths or combine with additional primitive ornaments and accents in tubs, buckets, bowls, and vases. Tie it to the handles of a gift bag or use simple tape to attach it to a package as a unique and endearing present adornment!
Enjoy twisting and bending it a little here and there to give it an amusing look! Give its curved end as much or as little curve as you'd like! Its shape has the potential to be altered beyond that of a candy cane, as well! Get creative!
Made of rusty tin, jute, and wire. Suitable for indoor and outdoor use.